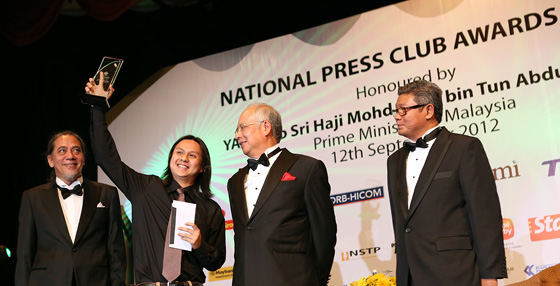 I won the 2012 NPC-Photographer of the Year 🙂 Prime Minister Datuk Seri Najib Tun Razak presented me the award. Read it HERE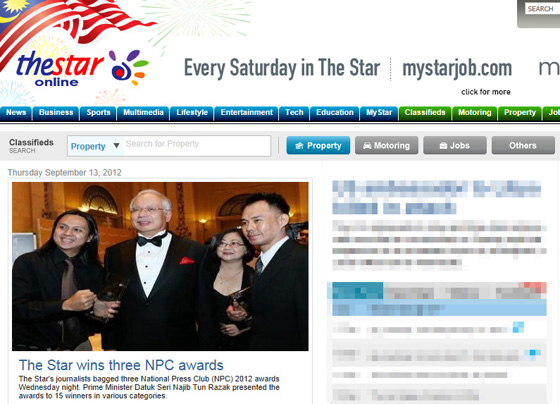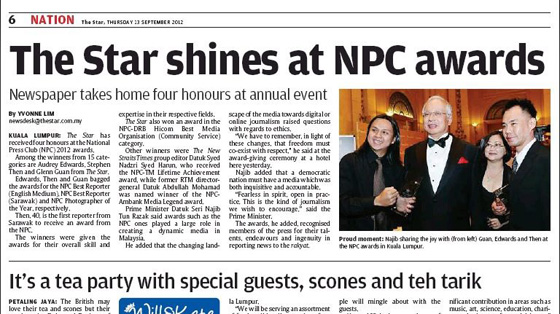 The Star shines at NPC awards
By YVONNE LIM (September 13, 2012)
KUALA LUMPUR: The Star has received four honours at the National Press Club (NPC) 2012 awards.
Among the winners from 15 categories are Audrey Edwards, Stephen Then and Glenn Guan from The Star.
Edwards, Then and Guan bagged the awards for the NPC Best Reporter (English Medium), NPC Best Reporter (Sarawak) and NPC Photographer of the Year, respectively.
Then, 40, is the first reporter from Sarawak to receive an award from the NPC.
The winners were given the awards for their overall skill and expertise in their respective fields.
The Star also won an award in the NPC-DRB Hicom Best Media Organisation (Community Service) category.
Other winners were The New Straits Times group editor Datuk Syed Nadzri Syed Harun, who received the NPC-TM Lifetime Achievement award, while former RTM director-general Datuk Abdullah Mohamad was named winner of the NPC-Ambank Media Legend award.
Prime Minister Datuk Seri Najib Tun Razak said awards such as the NPC ones played a large role in creating a dynamic media in Malaysia.
He added that the changing landscape of the media towards digital or online journalism raised questions with regards to ethics.
"We have to remember, in light of these changes, that freedom must co-exist with respect," he said at the award-giving ceremony at a hotel here yesterday.
Najib added that a democratic nation must have a media which was both inquisitive and accountable.
"Fearless in spirit, open in practice. This is the kind of journalism we wish to encourage," said the Prime Minister.
The awards, he added, recognised members of the press for their talents, endeavours and ingenuity in reporting news to the rakyat.